The short version: everything's fine.
The long version: it all begins with planning.
For those who have never gone through a hurricane, the most important thing to know, is that there's always lots of time to plan – usually at least a week.  Those who plan are usually just fine.  Those who procrastinate, well, that's much of what you see in the news.  But that planning is a two-step process; half of it is planning at the beginning of hurricane season, and the other half is acting early when a named storm first starts heading in your direction.  I've been through many hurricanes, and experience has taught me to do both.
If we've had a talk about hurricanes in the past few years, you've probably heard my opinion that in FL, we've become very complacent due to over a decade of nice weather.  That's made people forget to create an annual hurricane plan, which is a MUST for EVERYONE who lives in an area with even the slightest possibility of getting hit.  This includes having several gallons of water set aside, some extra gasoline, non-perishable foods, charged batteries, etc…. and most importantly, and actual thought-out plan with a checklist.  In the years after a storm, everyone is sure to have these at home at the start of every summer, but in 2017, we've become complacent, and it caused mass-hysteria, water shortages, fuel shortages, and general panic, fueled by media hype and scare-tactics.
The moment Irma began moving towards FL, our plan started to evolve.  A good plan can't be rigid, but instead, presents multiple options that allows for the best choices to be made as a storm changes, grows, intensifies, and the threat increases.  This thought process is what has kept me alive while living on boats for over a decade throughout the Caribbean as well as in 3rd world countries in the South Pacific, including surviving quite a few hurricanes/typhoons while riding them out on the boat.  One of the very first steps was anticipating shortages.  With the new Lauderdale By The Sea gallery freshly built out, our concern for its lack of hurricane impact glass and lack of storm shutters was paramount. The next best alternative is plywood.  Let the hardware store chaos begin!!!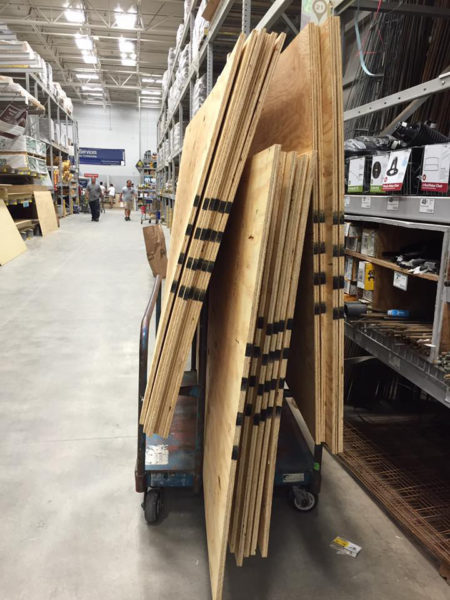 A full 6 days before projected landfall, the first and second stores had nothing left.  As I approached a large Lowes, the parking lot was aflutter with pickup trucks and construction vans loading up on as much as their vehicles could carry.  Clearly the guys in the construction business have been through this mess before.  I had to wait 10 minutes just to get a cart, and followed some guys to their truck to get it.  They actually said another person was waiting for their cart, and I replied with, "but are they going to help you unload all this into your truck?"  They said, "good point", and the cart was mine.  Inside, people were loading up their carts faster than the Lowes staff could unload it from the containers with forklifts.  I had calculated out 21 4×8′ sheets would protect the new gallery, but since my big vehicle is up north for art shows right now, all I had was my 241K miles "dive truck" 4-runner, which can do about half that much at a time.  Suzanne waited at the store for over an hour, guarding the other half with her life.  When I came back, no one was loading wood, so it looked like all the wood for that day was sold out by 10:30am.  Would another truckload arrive that night?  I didn't need to know the answer to that because I planned ahead.  No need to start cutting and drilling for a few more days until the track was for sure heading our way.  But now I have it, and am ready.  Same for batteries, candles, water, and peanut butter.
Simultaneously with the run on plywood, the few gas stations that were not dry, had lines 20-30 cars deep, causing traffic jams all over the roads.  I used the same technique as I did in the near miss from Hurricane Matthew in October 2016 – I got up at 3:30am to find a station after the 2am tanker trucks arrive.  The 8th station I went to had gas, only $.40/gallon higher than the week before, and a bargain at that.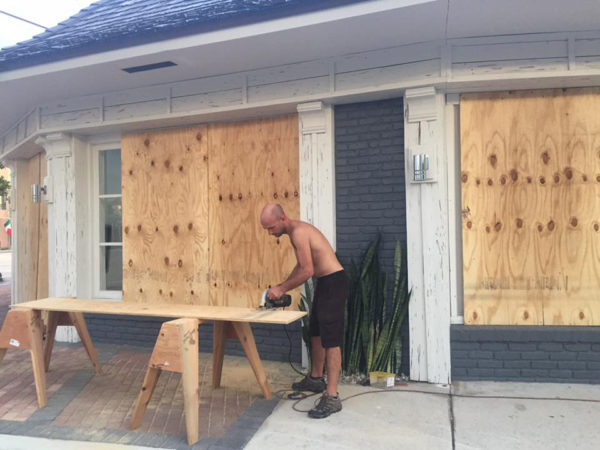 About 3 days before projected FL landfall, it was looking like it would only impact FL as a Category 4, and the track was veering towards the west coast.  If it had maintained a 5 towards the east coast, I would have stayed, but I did have a Detroit art exhibit planned & paid for + flights there and back.  I figured my return home Monday early A.M. flight would be cancelled, so I rebooked for Monday night, but even that wasn't enough, as FLL announced they'd not reopen until Tuesday.  Spirit Airlines rebooked me (with great difficulty) for Tuesday night, but I decided flying home earlier was important, so I bought a new Tuesday morn flight home.  Good thing I did, because that Tuesday night flight didn't make it back until Friday.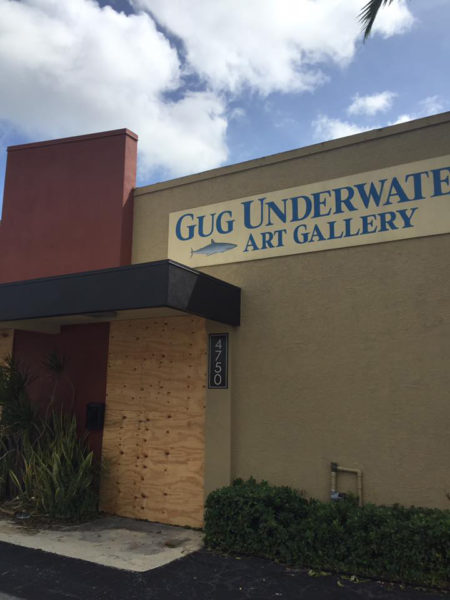 Meanwhile, back on the home front, I left Suzanne to stay there and finalize preparations and to then ride out the storm.  I know, I know…. it sounds like I'm a jerk, but she is really, really, really hard to kill.  She's been through plenty of hurricanes too, and will make all the right decisions.  Before I flew north, we had boarded the windows of the new Lauderdale by the Sea gallery, moved one car into the warehouse and boarded up the bay door (the landlord took care of the front of us), got everything off the floors, covered the printers with tarps, and tied everything to something.
And now we wait.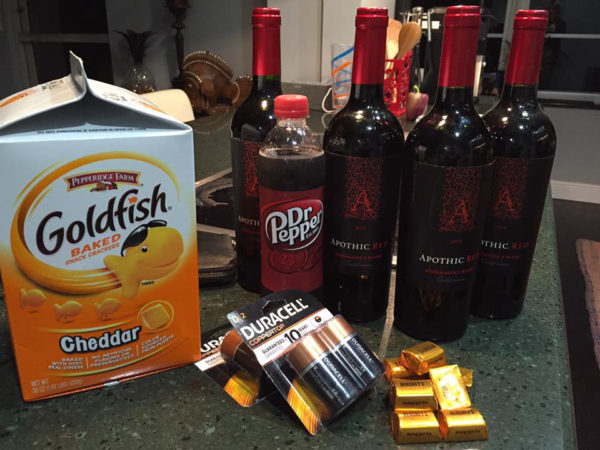 Waiting is often the toughest thing.  As the weather reports come in with updated tracks, plans have to adjust accordingly.  And not to downplay any of the horrors others faced, for us in Fort Lauderdale, with about 24-18 hours to go, it was reasonably clear that we were going to dodge a metaphorical bullet.  The track had now shifted to the west, which now would sweep over the FL Keys, up past Naples, Fort Myers, and Tampa.  But even better news, it was weakening from a 5/4 into a 4/3.
So yeah, Fort Lauderdale dodged a bullet.  On Monday, Suzanne drove over to the new LBTS gallery to do a damage report, but was turned away by local police, probably because she looked like a convict/looter.  She drove home & walked over, but wasn't really able to get in because I did such a "good job" of boarding the place up!  When I arrived back home on that Tuesday morning, the flight attendant said upon landing, "congratulations, we're the 2nd plane to land at FLL since Irma".  The 6 mile drive showed some damage to buildings, a lot of trees all over, signs blown off their structures, most of the traffic lights out, and power out to about 1/2 the area.  We drove straight to the new LBTS gallery, and started to remove the window boards, and quickly found that everything was fine, save for the damage I did to my new beautiful paint job when I installed the window boards!  Also, with the salt/sandblasting, the beautiful white paint in now a sloppy yellow, and my new exterior lights are already rusted.  First-world problems, right?  More importantly, the roof did not collapse, my sign did not blow away, and the AC did not fall through the roof.  I've got a new pressure washer, and will be doing touch-up painting as soon as I finish typing here.
As for the warehouse, no problems.  At home on the beach, well yeah, there was a lot of sand moved around, and all the landscaping looks pretty sad, and a building door got blown off, but considering we're only 60′ from the water line, I'd say the building did great!  But on the sad side, there were about 25 turtle nests still unhatched, and I'm sure they're goners.  Don't fret though – 2016 was a record-breaking year for successful nests in FL, and 2017 blew 2016's numbers away, even before the storm came.  On Tuesday morning, I looked out at my home reef in horror, and immediately saw two new sand bars where there was a thriving reef before.  10 days later as I write this, the visibility is still too poor to go out and inspect the sand damage.  The water is clear on other beaches to the north, but the government is still pouring water out of the canals into the ocean, and its very chocolate-milky.
So…. all in all, we fared pretty well.  My heart goes out to those who got hit much harder – specially those in the Caribbean who got double-blasted with Hurricane Maria right after Irma.  In places such as Puerto Rico, all the planning in the world can only do so much – there's some serious desperation there right now.  Thanks to all those who reached out asking if we were okay – and of course, sorry that our responses were slow.