Outdoor Art
Since we get frequent inquiries about hanging a Gug piece of art outdoors, we came up with two great solutions.  Here's all the details that will help you decide if it's right for you!
The first part of the question is, do you actually need one of our outdoor finishes at all?  You may have a covered patio or screened-in lanai that is well-protected from rain, wind, and the fading effects of the sun.  While there's no one-size-fits-all answer here, we've installed our normal "indoor" aluminum art for clients like this plenty of times.  The only modification we make, is we prefer not to use the metal "float-mount" backer (which is our most popular indoor mounting option for aluminum art).  Instead, it's safer to use our "edge-mount" backer (which is also an indoor option) because it gives the entire piece a bit more rigidity.  As for our normal "indoor" canvas under well-covered conditions, yes, we've seen it done successfully, but with more humidity change in the outdoor air, it can be prone to mold growth over the years, typically only on the back, and it's also more likely that eventually you could possibly see a buckle or sag in the material.  This is why we'll generally never recommend our normal "indoor" canvas for the outdoors.  So you ask – "If I do it anyway, how long will it last?" And the only answer is….It depends!  Either way, if you choose to put one of our "indoor" pieces outdoors, you'll definitely want to use a security mount for wind protection.
Okay, that's good info for when your outdoor conditions are well-covered, but now lets talk about true outdoor art for full-sun & rain.  Just like our two indoor finish options of canvas gallery wrap & aluminum, our two outdoor finishes occupy the same niches.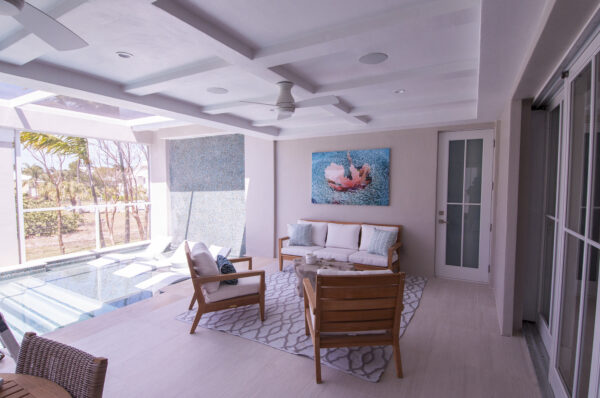 Aluminum art for outdoors is visually identical to our indoor product.  But there's some chemistry in the material that makes it special.  Our normal (indoor) aluminum has an outstanding color-fading resistance of 65 years when indoors away from direct sunlight.  But if you were to expose it to outdoor sun, like anything, it would start to fade.  How long?  How much fading?  Again, it depends on how direct, for how many hours, and where you live (Miami gets a few more sunny days than Seattle).  But a reasonable assumption is that after a year or three, you're going to notice some fading if the indoor art is placed outdoors in the sun.  Now our special outdoor aluminum is rated at an industry-leading full 5 years in full sun with 14 hours per day of exposure!  Considering that it's likely that the location you're thinking of will only get an hour or three of direct sun per day, that means that yours will likely last far longer.  It would be reasonable to say that it will last as long as, or longer than the paint color on your car if parked outside.  Rain won't hurt the outdoor-specific aluminum (or it's indoor counterpart, for that matter), and you can even hose it off.  We can make outdoor aluminum art in the same sizes as our indoor aluminum; up to 96×48 inches per panel, and for larger sizes, a photo can be made in a multi-panel diptych, triptych, quadtych, and so on.
Our outdoor gallery wrap is actually made of vinyl, rather than canvas.  It looks similar to our canvas, but has a slightly glossier surface, and a smoother texture.  While our indoor canvas is rated at a best-in-class 135 years fade resistance when indoors in indirect light, our outdoor gallery wrap is rated similarly to our outdoor aluminum for fade resistance at an industry-leading 5 years in all-day full sun.  Since gallery wraps are wrapped over wooden stretcher bars, we first apply multiple coats of a water-resisting shellac to the wood.  Then we take a few extra steps in the assembly to ensure a greater water resistance & structural stability to the stretcher bars so it can better handle the elements.  Our special vinyl gallery wraps are also mold-resistant, so you won't have the same humidity issues as when using canvas outdoors.  You can clean it off with a damp soft cloth.  Outdoor gallery wraps can be made in any custom size up to 120×60 inches per panel, and for larger sizes, can be made as a multi-panel diptych, triptych, quadtych, and so on.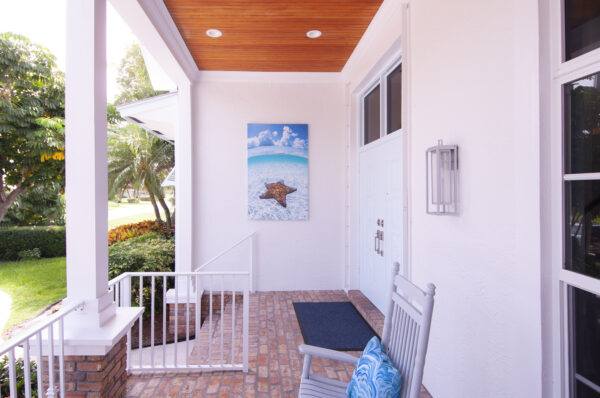 So what if your art is indoors, but you have huge floor-to-ceiling windows that let in tons of light?  Well, sure, you can use our special outdoor-rated aluminum in this indoor situation, and it will stay colorfast for a longer period.  As mentioned earlier, it's visually identical to the indoor version, and you can now choose the float-mount backer (which is our most popular for indoors), or the edge-mount backer.  If you prefer canvas over aluminum for your direct high-sun indoor art, we'll probably still recommend our standard indoor canvas because of it's best-in-class 135 year fade resistance (of course, that's measured without direct sun).  Just do so, knowing that it might be just perhaps a few decades of fade-resistance rather than the full 135-year guarantee.  Also, it's worth noting that in full indoor sun, if the temperature drastically increases (more likely on dark & black art), it increases the likelihood that a canvas may eventually require re-tensioning after repeated expansion & contraction due to extreme temperature fluctuations.
As a final note on hanging your Gug art outdoors, we'll provide you with some different or additional hanging hardware.  It depends on the installation location, but for both gallery wrap & aluminum, its usually better to not hang it on a wire.  Instead we'll provide the proper cleat.  Then the final step in any outdoor installation is the Security Mount & bracket.  This will give additional wind resistance so it won't fly away in a minor or normal storm.  Now if there's a hurricane coming….well, that's why we provide you with a security mount wrench (don't loose it!!!) to bring it inside.  Actually, if you don't mind it being semi-permanent, we've had several clients actually use Liquid Nails & epoxy to install our art.  The installation of the outdoor "Batfish" and "Fish On Fire" were hung with Liquid Nails just 2 weeks before Hurricane Irma, and that house was a about 1 mile from the coast!  Not too shabby!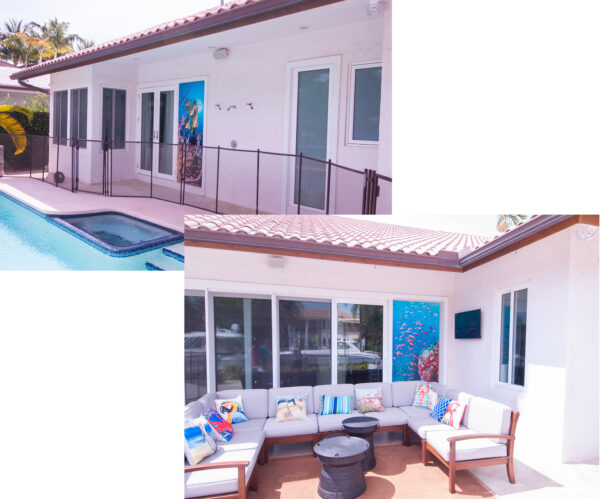 For any more questions about ordering a Gug for your outdoor settings, just give us a call, email, or stop into the gallery.  As always, we can help best by seeing a good-quality, wide photo of the wall and area.  Thanks for reading!
-The Gug Underwater Gallery Team