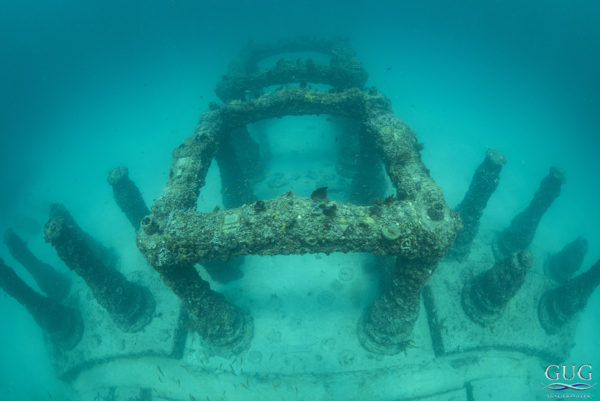 Sometimes a little destruction is just what's needed to take the next step forward.  Back in September 2017, Florida took a hit from Hurricane Irma, and along with the countless people and businesses affected, the Neptune Memorial Reef project took an unexpected hit.  They even took a double-whammy as their corporate headquarters were located right in the path of Hurricane Harvey which swept through Houston around the same time.  But they looked at it as an opportunity to fix the damage, and then expand their artificial reef structures off Miami even further, and last week, we were fortunate to photograph and film some of their progress on a new phase.
The Neptune Memorial Reef is an artificial reef structure located about 3 miles off the coast of Miami.  It serves as a modern cemetery, where you may place the ashes of a deceased loved one inside a concrete structure, which is modeled after an artistic vision of the Lost City of Atlantis.  Phase one, now over a decade old, has now been covered in coral & sponge growth, and has become home for large schools of fish and other creatures.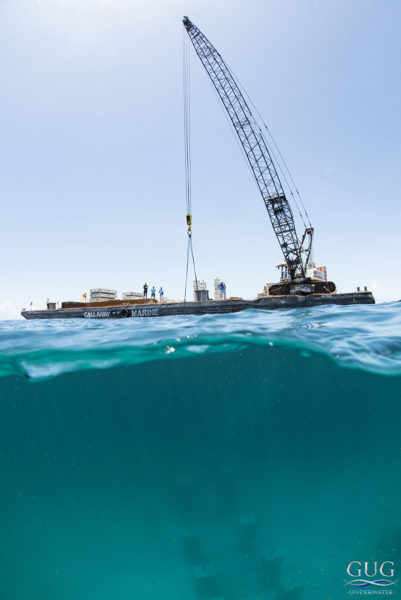 And the work continues – last week, using a barge to lower new large structures down to the sea floor, they began placing pieces of a large puzzle to be assembled in the upcoming days.  Using surface-to-diver communications, a commercial diver with a com system in his helmet, directed a crane operator, and expertly set each structure (each weighing thousands of pounds) in place.  Watching the commercial diver was fascinating.  Commercial diving (such as underwater construction, welding, etc.) is considered one of the most hazardous occupations on the planet, but in the shallow, warm waters off Miami, this might have been the best gig this diver has ever had!  Not to say it wasn't without it's challenges – maneuvering these massive structures was no easy task – one slip would cost thousands and set the schedule back by days or weeks – or far worse…having a several-thousand-pound structure fall on an underwater worker would be catastrophic.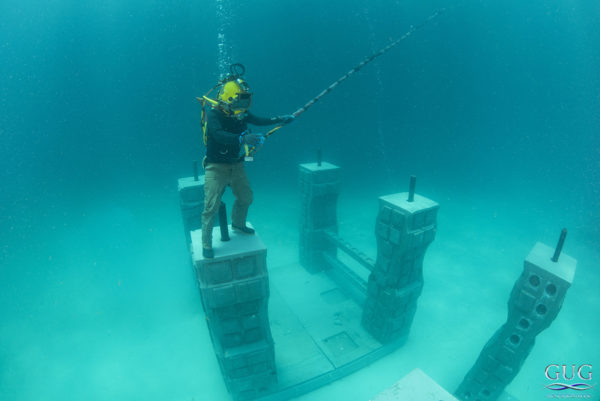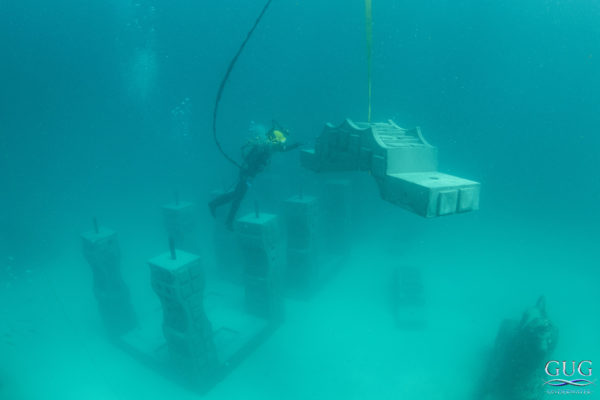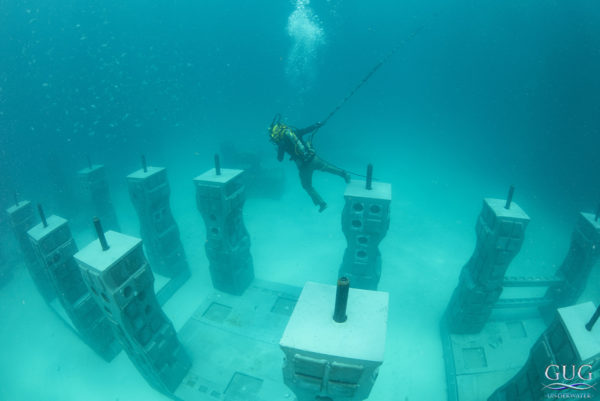 By the end of our time documenting the successes of the day, they had laid the bases of 4 new archways, and separately placed all the tops of the arches onto the sand just beside.  Schools of fish thousands-strong were investigating the new structures within an hour, and I couldn't help but to imagine that they were a little confused as to where the new reef came from, but happy that this new habitat will soon be covered in coral, like Phase I.  Thinking of my own future, maybe I need to reserve a plot in this new phase?  I can't think of a more appropriate final resting place than in a reef, being slowly encrusted in coral, surrounded by my fishy friends.