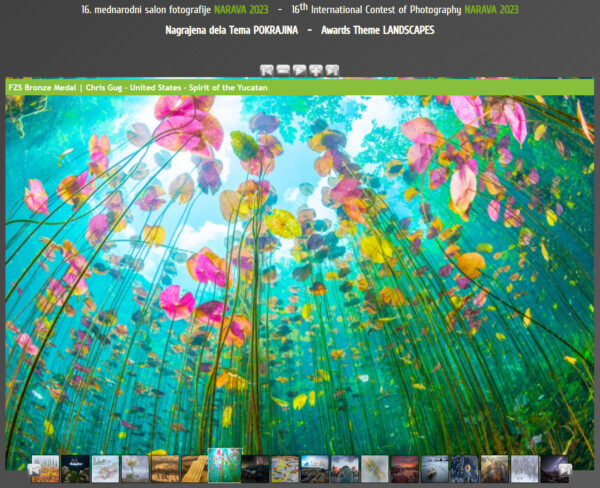 Checking the mail today (for the first time in ~4 weeks) provided a nice surprise via the Slovenian post – I placed not once, but twice in one of Europe's most prestigious photo competitions, the "16th International Contest of Photography NARAVA 2023″!
From the SeaScapes Collection, Spirit of the Yucatan received a medal in the Landscapes division.  While obviously an underwater photograph, rather than a traditional landscape photograph, I've always strived to compose & light my images for the SeaScapes Collection as if they were landscapes; like a scene, rather than a wildlife portrait.  To me, this is about combining the natural ambient light from the sun with the studio lighting that I create with my underwater strobes.  Letting the natural sunlight shine through the leaves of the lily pads brings out the true pinkish/magenta hues, and my strobes freeze the motion, and allow the deeper parts of the image to have a congruent tonality with the shallower parts.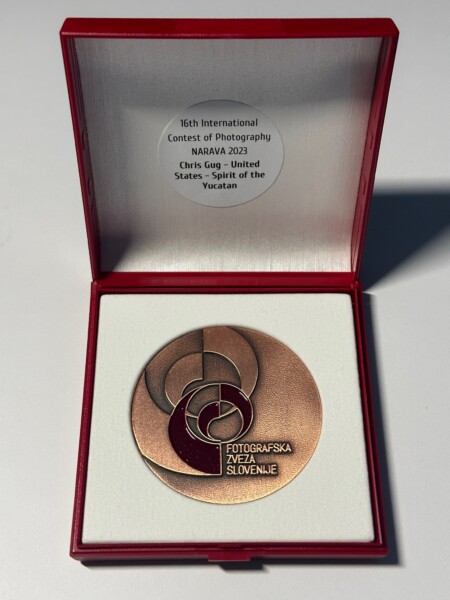 And I'm so excited when images from the Aliens Collection are awarded.  So often, I think my obsession with the freakiest creatures from the deep is so consuming that others can't or won't understand.  But having them recognized on an international platform such as this is extremely rewarding for me, knowing that the time spent drifting alone through the nighttime open ocean is appreciated by photo experts and my peers around the world.  It's an obsession that I don't think I'll ever tire of.  While we're bombarded with news stories about coral bleaching, global warming, and reefs dying, we're only at the very beginning of being able to study these tine planktonic creatures from this collection, and we have no baseline to measure from to determine if some or all of these creatures (many of which are in their larval stage) are effected by our trail of destruction in the Anthropocene.  If things continue on the same path, documenting them just might be the cornerstone to my legacy.  But back to a happier note – this is indeed a photograph of a long-arm octopus (Macrotritopus defilippi), the same species featured in the print, Alien #12, shot off Kona Hawaii last year, out over several thousand feet of water at night.