Underwater Photography Contests – 5 More Wins!
Recently, I placed in three international photo competitions (5 awards total) with images from the SeaScapes Collection and the Aliens Collection, adding my pile of over 100 photography awards.   I've always loved photo contests for many reasons – the prizes can be great, sure the recognition is nice, and it often leads to other opportunities in my career with editors, filmmakers, and even interior designers.  But nowadays, I enjoy it most when one of the photos in my print collections gains notoriety, mainly because my art clients who already own it get a sense of the warm & fuzzies – I mean, who doesn't want to learn that your decision of what you picked as beautiful ocean wall art, is also what was picked by a panel of highly-qualified underwater photography experts from around the world?
Pinkaboo, from the SeaScapes Collection was Commended in Underwater Photographer of the Year 2023 in the Macro category.  Around 6000 entries were submitted by some of the best photographers in the world, so an award here is a true honor.  One of the judges (Alex Mustard from the UK) commented, "A beautiful frame, that celebrates this expansive coral that provides home to juvenile golden damsels.  Gug has distilled the bustle and complexity of the coral reef in this simple graphic frame – perfect focus and framing, corner to corner."  Well thanks, Alex!  Very cool to see judges taking the time to create helpful feedback when they are no doubt exhausted from pouring over thousands of images.  But he hit the nail on the head on one key element – focus.  By using the new Nauticam EMWL-1 lens, never before have I been able to get such corner sharpness in my photographs.  It's a beast of a lens, coming in at around 7lbs, and it only covers 130-degrees at its widest (I'm a fisheye guy, preferring 160-degrees), but to make up for those challenges, it allows for telephoto zoom, and creates the most perfectly sharp corners – a feat that's impossible with a fisheye lens behind a dome port on an underwater housing.  As I've always said, in underwater photography, with every gain, there's a sacrifice.  Suffice to say, Pinkaboo has earned a bit of bragging rights, and if you already own it, I'm thrilled for you to now own a winner!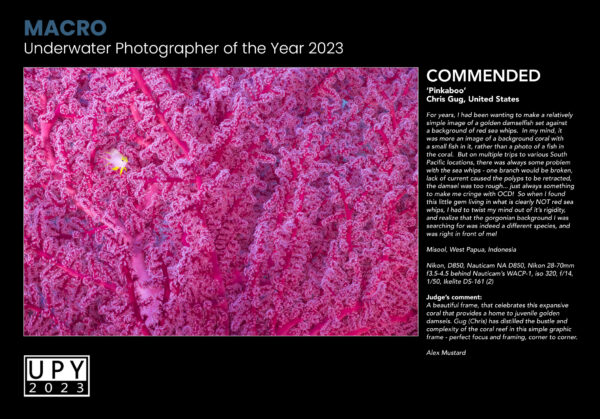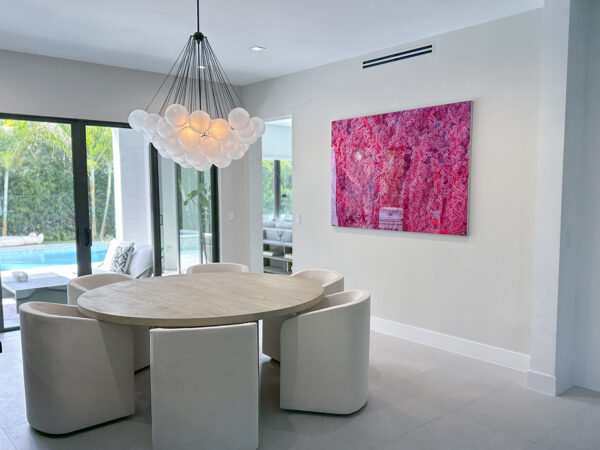 Shortly after that announcement, I also received the good news from the World Shootout Underwater Grand Prix – a highly-competitive international photo competition based out of Israel.  Having just finished a, extensive Aliens shoot in Hawaii, I concentrated my entries on the Aliens Collection.  Their requirements stated that an entry consists of a 3-image portfolio, and each contestant may enter 3 times (so 9 images total).  What a delight to see that all 3 of my entries placed in the top 5! (2nd, 3rd, and 4th places).  Also a treat, my friend Steve, who I was shooting in Hawaii with, took the 1st and 5th place, so together we swept the category, confirming that the secret to success in blackwater photography is without a doubt, a shaved head!  The new Alien #20 (an orange diamond squid) was one of my 9 images, as was a long-arm octopus, a larval jack inside of a moon jellyfish, a beautiful cusk eel, and an extraordinarily rare glass squid.  This brings The Aliens Collection of planktonic deep-water freaks up to about 10 major awards, and it continues to be one of my most active projects.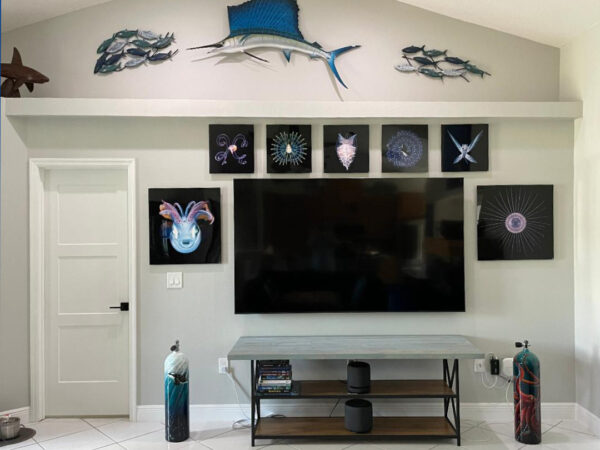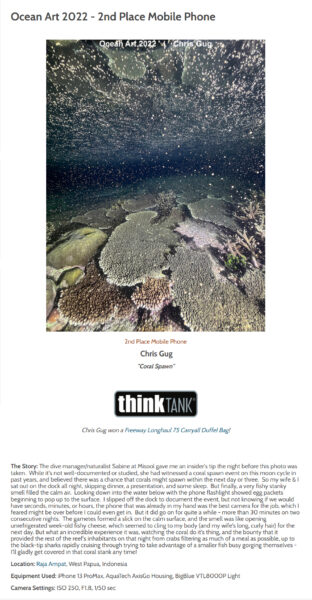 Then another happy surprise – a 2nd place win in Ocean Art 2022 Underwater Photo Contest.  This time, a photo of a coral spawning event at Misool, shot with an iPhone!
Most of my photo contest wins over the years have been with images that lie deep within the depths of a hard drive and have otherwise never seen the light of day, as they're more artsy-fartsy or technically challenging to create, but not necessarily beautiful enough to be a major statement piece of art in your living room.  So it's nice to see some of my wall art images get a little love, and bolster the resume of some of my collected art.  I see it as a win-win – we both get bragging rights when your wall becomes a wall of fame!